SP WELCOMES…
As we start 2021, Smithers Purslow is delighted to welcome a further five key senior recruits to service our growing national workload.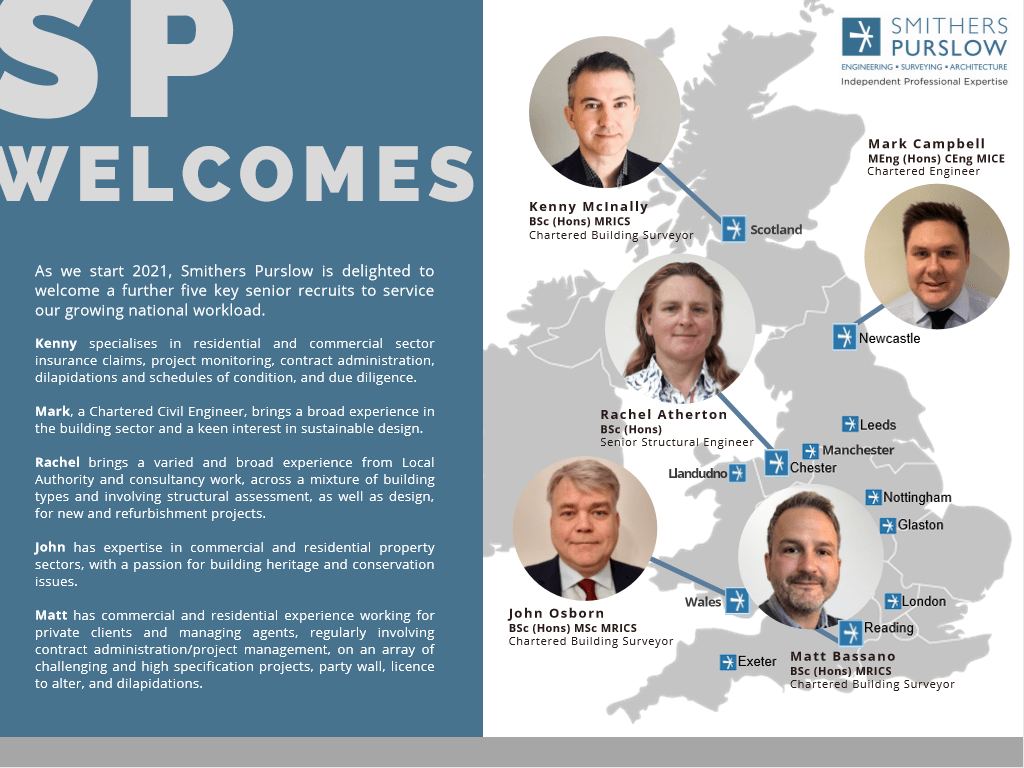 Kenny McInally specialises in residential and commercial sector insurance claims, project monitoring, contract administration, dilapidations and schedules of condition, and due diligence.
Mark Campbell, a Chartered Civil Engineer, brings a broad experience in the building sector and a keen interest in sustainable design.
Rachel Atherton brings a varied and broad experience from Local Authority and consultancy work, across a mixture of building types and involving structural assessment, as well as design, for new and refurbishment projects.
John Osborn has expertise in commercial and residential property sectors, with a passion for building heritage and conservation issues.
Matt Bassano has commercial and residential experience working for private clients and managing agents, regularly involving contract administration/project management, on an array of challenging and high specification projects, party wall, licence to alter, and dilapidations.
Kenny, Mark, Rachel, John and Matt will be happy to help in any way they can. You can make contact with them directly by email: kmcinally@smitherspurslow.com, mcampbell@smitherspurslow.com, ratherton@smitherspurslow.com, josborn@smitherspurslow.com, mbassano@smitherspurslow.com
You can also contact them via our Instructions Team: instructions@smitherspurslow.com